On May 18 2017, Australia's Senate Education and Employment Committee held a public hearing for its inquiry into Corporate Avoidance of the Fair Work Act in Melbourne Australia.  Executives of Carlton United Breweries (CUB) were the first to appear, ostensibly, to reiterate and answer questions about its submission.  The Chair of the Committee, Senator Gavin Marshall, had different expectations and stated he would be asking about a passionate, long and contentious dispute at CUB's Abbotsford brewery in 2016.  Quotes from a CUB diary of events, mentioned by Senator Marshall, seemed to catch the CUB executives unaware.
Senator Marshall quoted from a CUB Manager's diary asking what was meant by "Shooting the shit out of them". The atmosphere in the hotel function room changed.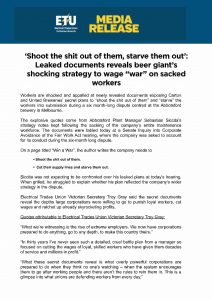 A media release from the Electrical Trades Union covers much of the hearing in relation to the CUB dispute but could have provided more context.  The Australian Council of Trade Unions released a statement about the hearing later that day stating that the CUB management had a strategy that reflected the inflammatory quote above.  The existence of a formal strategy was not determined in the Melbourne hearing.
Senator Marshall tried to establish the timeline of the dispute and how it related to any CUB industrial strategy about the dispute.  He spoke about CUB having a replacement workforce in anticipation of the protracted dispute and sought to identify who paid for their hotel accommodation.  Marshall also sought the name of the person who decided to always bring the bus of replacement workers through the main gate where the picket was and that would, understandably, provoke industrial tensions.
He then quoted from a CUB diary and asked:
"Under the tile of "Winning the War', what did you mean by shooting the shit out of them?"
and
"What did you mean by 'cut their supply lines and starve them out'?"
These questions, and more, were taken "on notice" by the CUB team.  The future responses will be fascinating.
The impression given by the Committee in the hearings on the morning of May 18 was that discussions can be robust and sometimes surprising but always informative. It also showed that issues raised at each hearing need to be considered in the longer context of the inquiry.  Unions would argue that they have that context but that is largely an ideological context and the Senate Committee is charged with impartiality.
SafetyAtWorkBlog is preparing an article on this Senate Committee's operations as they relate to workplace health and safety – an issue not mentioned during the CUB appearance but that has been mentioned frequently in other hearings and investigations of this Committee's inquiry.