Twelve months after the NSCA Foundation resurrected its occupational health and safety (OHS) conference program, SafetyCONNECT has settled into to a comfortable niche.  This year's conference, in an established Brisbane location has attracted around 140 delegates and almost 20 exhibitors.  Perhaps most importantly is they have been able to attract entertaining and challenging local and international speakers.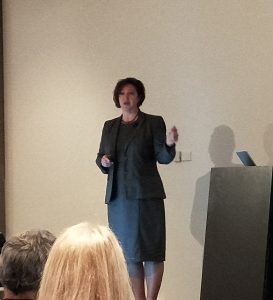 Eldeen Pozniak is no stranger to Australian shores.  Her presentation was fast and funny and was a great opener for the safety conference.  It was clear that Pozniak is a polished public speaker as she wasn't afraid to speak her mind and even dance! (You had to be there)
Pozniak, who is Canadian and internationally active in OHS consulting and development, globalised OHS by showing the Australians that safety and health was not that different in the opposite and Northern hemisphere, although they have bears. Companies and directors have similar motivations to those in Australia and the methods to attract their attention (directors, not bears) can be universal.
Professor Andrew Hopkins provided a strong contrast to Pozniak's content and delivery but benefited enormously from her presentation.  He did not dance but challenged us on our understanding and application of safety culture.  The contrast strengthened his words.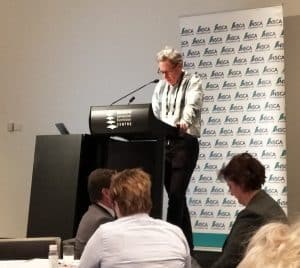 His delivery was from a written statement and he stood at the lectern (as I will tomorrow).  In this conference world of Ted Talks and roving microphones, Hopkins' presentation may have seemed "old school" to some but his words were very current.
He suggested, as he has before, that "Safety Culture" should be banned from our lexicon as it misrepresents safety.  It focuses on a concept, while "culture" research focuses on groups.  Perhaps this is part of the fog in business and regulatory circles that safety culture has generated.
Hopkins asked why do we talk about "safety culture" instead of "safety"?  He advocated that we use "operational excellence" as a more accurate description of safety management and its purpose.
Of particular interest to a Bachelor of Arts like myself was his deconstruction of his preferred "safety culture" definition –
"it's the way we do things around here"
This apparently simple phrase hides its relevance, complexity and usefulness to safety culture.  It concerns actions – "do". It involves locations – "around here". It involves A group of people – "we", and collective actions – "we do". It is inclusive of business operations and decisions  – "things".
In many ways, the power of this particular definition is deceptive in its simplicity.
As many conferences do, the delegates are split into streams for most of the day and regroup for a session at the end.  In that way SafetyCONNECT is quite traditional but there remains a place for a traditional presentation of information, particularly if the information is good, challenging and controversial.
The conference continues tomorrow.