Australia Post features regularly in the mainstream press.  Recently, the media and Government discussed the pay packet of its Chief Executive Officer, Ahmed Fahour, but a safety management issue has been bubbling along for some time and reappeared this morning in the Australian Financial Review (AFR) "Australia post investigated over alleged manipulation of injury rate for bonuses" ($paywall).
The AFR writes that
"Comcare is investigating Australia Post over allegations that some senior managers manipulated data on injured employees' absences from work to meet key performance indicators and secure hefty bonuses."
This is allegedly done by
"delaying injury claims,
recording workers on sick leave when they are really absent on injury, and
paying for medical expenses in lieu of workers lodging compensation claims."
As well as managers:
"…postponing processing of claims,
requesting compensation staff deny claims or
sending injured staff for additional medical examinations."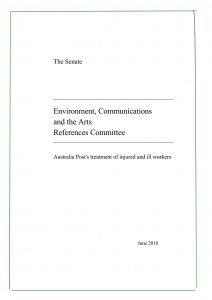 Such activities are well-known in the return-to-work sector and are usually stopped once they have come to light.  But what makes the Australia Post issues of great concern and why the AFR is linking it to Fahour's leadership is that the practices seem to have persisted, even when light has been shone even from the heights of the Australian Senate.
SafetyAtWorkBlog reported on the Senate inquiry into Australia Post in 2009 outlining the use of rewards and the manipulation of safety and workers' compensation data.  A participating member of that Senate Inquiry, then-Senator Steven Fielding included the following recommendation in the final report:
"Family First recommends that Australia Post conduct a complete review of its salary bonus policies and eliminate any policies which raise a conflict of interest between the financial rewards paid to managers and the health and wellbeing of employees." (page 50)
The allegations reported in the AFR indicate that management practices have not changed.
Australia Post is one of the few remaining organisations owned by the Australian Government and, as such, has many masters.  It remains a heavily unionised workforce as it remains part of the Public Service which has a comparatively high rate of unionism. This status means that there is a great deal of scrutiny on the organisation's management practices.  In December 2016, the AFR ($ paywall) reported that
"Australia Post has been told by the Turnbull government that it needs to keep costs under control after an ex-manager claimed there was widespread fraud in the company's workers' compensation scheme.

Communications Minister Mitch Fifield said Australia Post had assured him the scheme was being run in accordance with the law, a position contradicted by allegations to Comcare last month from a former manager in Australia Post's workers' compensation department."
This is a useful example of reassuring someone that laws are being complied with even though manipulation may be used to achieve that compliance.
It is also important to not categorise the manipulation of statistics as simply motivated by greed. Andrew Hopkins and Sarah Maslen wrote "Risky Rewards" in 2015 in which they wrote:
"…most of our respondents denied that the financial aspect of bonuses was the main motivating factor.  One senior executive explained that he was very well paid  and did not need the additional money.  But, he went on, "I like to be recognised for doing a great job… and I like to be recognised for that in monetary terms".  This comment captured much of the sentiment we encountered and the ambivalence about the nature of incentive." (page 159)
The Australia Post allegations are important to note as they are indicative of a flawed safety management system and organisational culture.  Each of the reassurances sought through audits, assessments and reports need to be forensically scrutinised as the findings were clearly limited, perhaps through flawed methodologies.  This scrutiny needs to be supported by strong executive leadership and as Ahmed Fahour has been CEO throughout the various inquiries, it is very hard to see him continuing in that role, especially with the continuing government  and industry concerns over his remuneration.