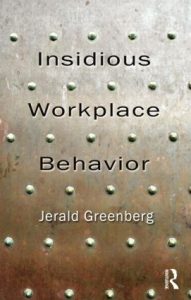 In previous writings about gender and occupational health and safety (OHS), the work of Jerald Greenberg was mentioned, particularly his book "Insidious Workplace Behaviour".  His perspective seems even more pertinent today as many of us are weaving our way cautiously through communications and interactions with our work colleagues as we clarify what is acceptable behaviour so as to avoid offence or accusations of bullying and sexual harassment.
SafetyAtWorkBlog's position is that sexual harassment is part of OHS and safety management systems due to the potential physical and psychological harm, in a similar way that bullying became an OHS concern.
Greenberg researches organisational behaviour and has written about corporate misdeeds and misbehaviour but he identified many precursors to some of these incidents.