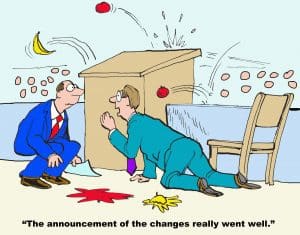 I really enjoyed presenting at the Central Safety Group's monthly meeting yesterday*.  (Taught me not to use slide presentations if you can avoid it.). Here is a brief summary of my take on the new international Standard for OHS Management Systems – ISO45001 – that I shared with the group members.
ISO45001:
is an evolutionary document from AS4801 and OHSAS18001 that has been written to provide consistency with other management Standards such as ISO9001 and ISO14001.
Does not ensure compliance with local Occupational Health and Safety laws,
Does not require certification,
Accommodates the promotion and protection of both physical and mental health,
Requires leadership and commitment from top management,
Can be used to inform clients and executives of what will OHS actions will be expected in the near future,
Could have substantial impacts on the OHS management of supply chains, labour hire arrangements and contractor management,
clarifies the management of change obligations for planned temporary and permanent changes.
Is as applicable to small business as it is to big corporations.
What to do
Don't rush – ISO45001 has only just been published.  Take your time to read it and compare it to your current OHS management references.
Read up – go to original information sources as much as possible.  Look at the ISO website frequently over the coming months.  Similarly with your local Standards body, like Standards Australia, for instance.
Ask questions of your safety regulators – Are they aware of the Standard? Do they have a view on its relevance? Have they identified any potential conflicts with local OHS laws?
Talk with your colleagues – let them know ISO45001 exists and consult with them about its potential impacts on their management activities.
Don't limit your discussions with your OHS team as the elements are likely to have some effect on Human Resources, Procurement, Chain of Responsibility…..
Review your auditors – make sure your auditors are aware of ISO45001.  Ask them when they will be able to audit to the Standard's criteria.  Determine if they have the skills ready for auditing new management criteria, for instance, Leadership and Commitment.  If they are not fully up on ISO45001, dump them, and find an auditor who is.
Read the Standard in the context of managing psychosocial risks – the Standard says that these risks can be accommodated in ISO45001, so what does that mean for your company? How will this fit with office politics, organisational structures and responsibilities?
Start using ISO45001 for internal audits – It's just another management tool by which your OHS management system can be assessed, but it is a new tool with contemporary OHS management elements and can apply globally.
* the cartoon does not reflect the reality of this meeting but could be the response from some in your company.