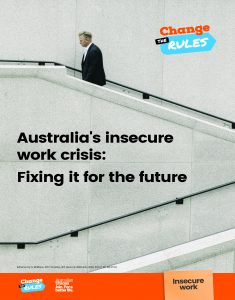 The Australian Council of Trade Unions (ACTU) often sets the occupational health and safety (OHS) agenda, as it did on workplace stress and bullying.  On 21 May 2018 the ACTU released a research report entitled "Australia's insecure work crisis: Fixing it for the future".  The opening paragraph provides a clear indication of the report's tone:
"The incidence of non-standard work in Australia is alarming. The fact that our national government and some employer groups seek to deny this reality and refuse to support reforms to better protect workers in insecure non-standard employment is a disgrace."
There is a lot of useful information in this report but there is also a lot missing, a lot that could affect workplace safety.