The Victorian (Labor) Government promised a review of WorkSafe Victoria's enforcement policies in its 2014 campaign pledges as per the quote below.  The independent occupational health and safety (OHS) review was conducted in 2016 with a lot of public submissions.  The review's final report was presented to the Victorian Minister for Finance, Robin Scott in December 2016.  Everything has been quiet since.
"Review the effectiveness of occupational, health and safety legislation, regulation and enforcement by the Victorian Workcover Authority. The purpose of the review will be to ensure high safety standards in Victorian Workplaces." (page 23)
The Government never committed to the public release of the review report however many who made submissions felt that the results of the review's considerations would be released shortly after the Government received the final report.  SafetyAtWorkBlog has been informed by the Minister's office that the report is unlikely to be released until the middle of 2018, eighteen months after the final report was presented.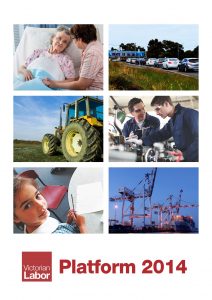 This seems an odd delay for a report that related to only a single government agency and was not the response to a scandal.
Regardless of the official timeline from the Minister's office, SafetyAtWorkBlog has heard that the review's final report may be released in a couple of months and that consultation with some of the OHS industry players has already commenced.  The public relations timeline fits this better than 2018 as it would show that the Government acts on its own review processes, provides something for the Government to talk about during, or in the lead up to, WorkSafe Week in October, and gives OHS a lift in the middle of the Victorian election cycle.
With the State election due in late 2018, it might not have been politically wise to provide a catalyst for a debate about OHS enforcement, particularly considering the ongoing industrial relations controversy at the Federal level.  Also, Premier Dan Andrews is constantly being attacked for the Australian Labor Party's close financial, if not ideological, relationship to the Construction Forestry Mining and Energy Union.
It is unlikely that the Independent OHS Review's final report will cause much disruption or change in the activities of the OHS regulator.  It is no Maxwell Report.  The most contentious issue is likely to relate to infringement notices, or on-the-spot fines, but this has been trickling along for several years.
If it is likely to have little effect, why is it important for the report to be publicly released?  Governments on the Left of politics often call for greater transparency and OHS is largely an issue on the political fringe.  Releasing reports, even if not obliged to, negate conspiracy theories and can reassure the public that the Government is managing a wide range of social matters other than though advertising campaigns.  And if the report is little more than a review intended to satisfy a campaign pledge, there is even less reason to keep it hidden.