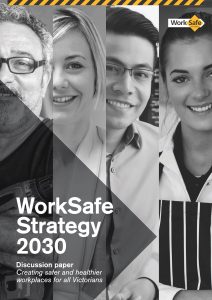 WorkSafe Victoria has released a discussion paper in support of its development of a WorkSafe Strategy 2030 but you wouldn't know it.  At the time of writing – there is no mention of it on the Facebook page, nothing on its news website.  The paper is only available through this rarely used community engagement page.
One of this blog's readers drew attention to this paragraph on page 8 which indicates that WorkSafe Victoria is basing part of this discussion paper on recent reports which seem to include the Independent OHS Review which is yet to be publicly released:
"A number of independent reviews undertaken recently have also highlighted opportunities for us to strengthen our approach to regulating health and safety in Victorian workplaces, and in further supporting injured workers.

We know in some cases we are not meeting the expectations of the community, and the outcomes of these reviews are informing the development of our strategy, and the way we deliver our services in the future."
It would be good to know what failed community expectations are being referred to.